A rich chocolate cake is coated in creamy dark chocolate ganache in this dark chocolate ganache bundt cake.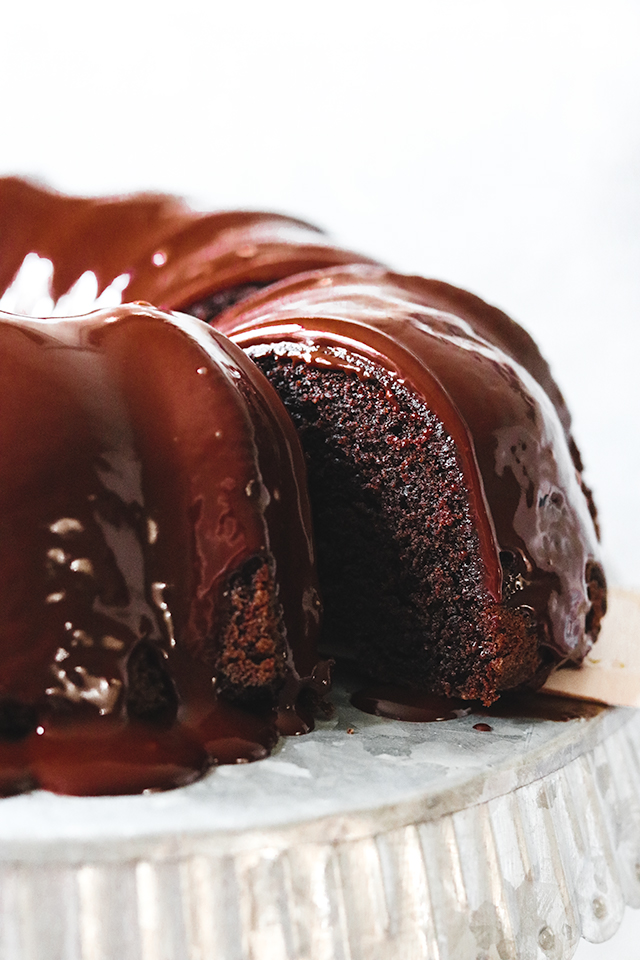 Chocolate on chocolate on chocolate!
If you're looking for the key to my daughter's heart, this is it. The kid has been refusing all desserts that don't involve one of the above ingredients and it is almost making me lose my mind.
I say almost because, YES I am a vanilla and lemon and fruit and caramel dessert lover, but I will also not say no to a chocolate dessert. I'm not a beast.
Needless to say, the whole family enjoyed this dark chocolate ganache bundt cake. A super rich (but also moist!) chocolate cake smothered in the ultimate decadence that is a ganache glaze – what is there not to love?!
This recipe is from the Zoe Bakes Cakes book by Zoe Francois, who is basically a cake baking goddess, so you know it's going to be good. It begins with a basic chocolate cake flavored with both Dutch process cocoa powder and bittersweet chocolate for the most exquisite chocolate taste.
Chocolate cakes are prone to becoming dry due to the use of cocoa powder, so buttermilk is added to the recipe for tang and additional moisture, resulting in a delicious cake with a tight crumb.
If you really wanted to, you could enjoy the cake with just a thin dusting of powdered sugar on top, but today we're going all out and covering it with the EASIEST dark chocolate ganache.
This ganache is produced with only two ingredients: heavy cream and chocolate. The bittersweet chocolate is melted once the heavy cream has been gently cooked on the burner. After the two are blended, they are poured over the cake to create a thick, chocolate ganache glaze.
That's all! SO ridiculously easy. Extra ganache can be stored in the fridge where it will firm up and can be made into chocolate truffles or just eaten in secret spoonfuls before bedtime. (Ask how I know this.)
This cake is ideal for Valentine's Day, birthdays, anniversaries, or any other event you like to commemorate!
I love that it doesn't require intense frosting or decorating but still feels really fancy and special. Good luck with your baking!
Dark Chocolate Ganache Bundt Cake
A rich chocolate cake is coated in creamy dark chocolate ganache in this dark chocolate ganache bundt cake.
Ingredients
For the cake
12 cup Dutch-processed cocoa powder for dusting (40 g)
½ cup heavy cream
½ cup (100 g) chopped bittersweet chocolate
¼ cup buttermilk
1½ cups (180 g) all purpose flour
½ tsp baking soda
½ tsp kosher salt
¾ cup (165 g) unsalted butter, room temperature
1½ cups (300 g) sugar
1 tbsp vanilla extract
2 large eggs, room temperature
3 large egg yolks, room temperature
For the dark chocolate ganache
1 cup heavy cream
8 oz (225 g) bittersweet chocolate, finely chopped
Instructions
For the cake
Preheat the oven to 325°F. Grease a 12 cup Bundt pan and dust with cocoa powder. Set aside.
Pour the heavy cream into a small pan and bring to a simmer over medium-low heat. Take the pan off the heat and add the chocolate. Let sit for 3 minutes, then whisk until smooth. Pour into a mixing basin and stir in the buttermilk. Set aside.
Whisk together the flour, ½ cup cocoa powder, baking soda and salt in a medium bowl. Set aside.
Combine the butter, sugar, and vanilla in the bowl of a stand mixer fitted with the paddle attachment. Cream together on medium-high speed for 4-5 minutes, or until light and fluffy.
Decrease the speed to medium-low and add in the eggs and egg yolks one at a time, mixing well after each addition. Scrape down the bowl's sides.
In the mixer bowl, add one-third of the flour mixture and mix on low speed until barely incorporated. Mix in half of the chocolate-buttermilk mixture until barely combined. Repeat with the remaining flour mixture, the remaining chocolate-buttermilk combination, and the remaining flour mixture.
Remove the mixer bowl from the stand mixer and fold the batter by hand once or twice to ensure it is well combined and no dry pockets remain. Pour into the bundt pan that has been prepared. Put them on a baking pan.
Cook for 50 minutes, or until a toothpick inserted into the middle comes out clean. Allow to cool in the pan for 15 minutes, then invert onto a serving plate and allow to cool completely.
Before serving, drizzle the ganache (recipe follows) over the cake.
For the dark chocolate ganache
Pour the cream into a medium saucepan and bring to a moderate boil. Take the pan from the heat and add the chocolate. Let for 3 minutes before whisking until smooth.
Related Questions
Can you pour ganache on a warm cake?

A ganache that is still warm will flow attractively over a cake and settle into a lovely glaze. If it's too warm, though, it may be too loose and simply run right off; if it's too cool, it will start to stiffen and won't pour at all.

Should ganache be poured hot or cold?

While it's still warm, ganache can be poured directly from the bowl over a cake for a can't-fail glaze. Instead, pipe into tartlets. Or it can be cooled to room temperature and whipped into a fluffy frosting or whoopie pie filling. It transforms into truffles after being mixed with peanut butter, refrigerated, and rolled.

Does ganache harden on a cake?

The ganache will thicken and stiffen as it cools to a sturdy fudge-like consistency. It will never reach a point where it is rock hard (you'll always be able to smudge it if you apply enough pressure with your finger and it will always give to your teeth if you take a bite) but it will completely firm up once cooled.