Lean how to make vanilla sponge cake , or a classic Victoria sponge using this simple recipe. Vanilla cakes are quite popular, and they may be decorated with whatever frosting you like. Add jam and whipped cream to make a traditional Victoria sandwich, perfect for afternoon tea.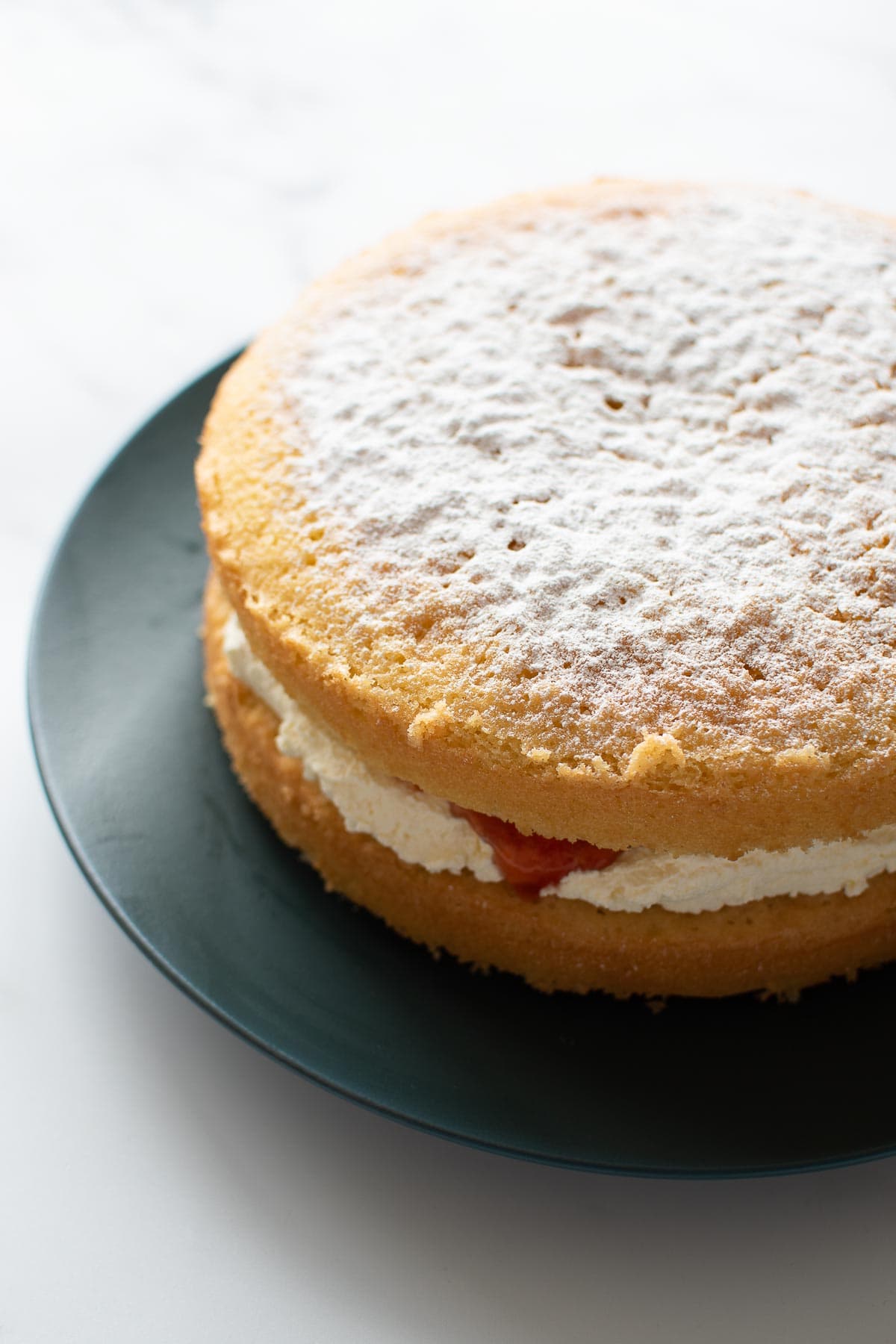 Why you'll love it
Made using pantry staples only
Quick and simple cake recipe
Vanilla sponge cake is really versatile
Use any icing or decoration that you like
Victoria sponge is a British classic
Inexpensive and really easy
Excellent for afternoon tea, birthday cakes, or even a modest wedding cake.
What is Victoria sponge
Victoria sponge, often known as Victoria sandwich, is a traditional British cake recipe. Two plain vanilla sponge cakes are sandwiched with a layer of cream and jam in the middle.
Original Victoria sandwich cakes are prepared with raspberry or strawberry jam, but any jam will do!
Sponge cakes are light, fluffy, and airy, making them a favourite dessert cake, afternoon tea treat, or summer treat.
Ingredients
Sugar: You may use either granulated white sugar or caster sugar. This makes the cake sweet, and gives it the correct consistency.
Self raising flour: Self-rising flour is flour that already has baking powder added to it. It can be found in most large supermarkets, but you can make it yourself as well. Do NOT substitute for all-purpose flour .
Eggs: The eggs help to hold the components together. I have not tried using an egg substitute, but if you do please let me know how it goes!
Vanilla extract : To add more vanilla taste. You can omit this, or replace it with a different extract to change the flavor of the cake.
Butter: The butter makes the cake dense, moist and delicious. Use softened (rather than melted) butter.
Baking powder: Gives the cake a nice rise.
Instructions
To begin making the ideal vanilla sponge cake, weigh your eggs. Set a bowl on kitchen scales and break the eggs into it. Take careful note of the precise weight of the eggs, which should be between 220-240 g.
Transfer the eggs to a mixing bowl , as well as the same quantities of sugar, self-rising flour, and butter. Meaning, if your eggs weight 229 g as mine did, you will add 229 g of the other ingredients as well.
 TIP! The trick to making a flawlessly moist vanilla sponge is to use the same quantity of eggs, self-raising flour, butter, and sugar. Most recipes online will estimate the weight of the eggs, and ask you to add 225 g or 230 g of butter, sugar and flour to the cake, but if you weigh the eggs first, you will get PERFECT results every time.
Combine the ingredients and divide them between two 20 cm (8 inch) cake pans. Bake in a preheated oven at 350 F / 180 C / 160 C fan oven for about 25 minutes, or until the sponge is golden brown and comes away from the edges of the cake pans.
You can also test the sponges to check if they are done by inserting a toothpick into the middle of the cake. Cook for a few more minutes if the toothpick still has cake batter on it. If it comes out clean, your cake is ready!
Let the cake to cool in the pan for a few minutes before transferring it to a cooling rack to cool fully.
If you want to make a traditional Victoria sponge cake, whisk double cream or heavy cream with a little icing sugar to make the whipped cream. In the centre, sandwich the two vanilla sponges with whipped cream and strawberry or raspberry jam.
A Victoria sandwich is often covered with icing sugar, although it usually has no frosting on the surface.
Of course, you may garnish the vanilla sponges with whichever frosting you choose.
Top tips
Make sure not to over mix the cake batter. The components should be blended just enough.
Let the cakes to cool fully before decorating them; otherwise, the whipped cream may melt straight off.
Avoid opening the oven door before the cake has finished baking! This may have an impact on the rise and texture of your baked goods. You should only open the oven door at the conclusion of the baking period to verify whether it's done.
For an even bake, place the cake in the center of the oven. You might also want to swap the two baking pans halfway through cooking to make sure that they bake evenly.
Serving suggestions
Vanilla sponge cake is a traditional dessert that is suitable for any occasion. The cake can be decorated however you like, making it suitable as a vanilla birthday cake as well as a Sunday dessert. Afternoon tea is often served with traditional Victoria sponge cake.
Here are some more cake filling and topping ideas:
Fillings: Sugar Free Grape Jam , Rhubarb and Apple Jam , Blueberry Chia Jam , Instant Pot Apple Butter
Toppings: Roasted Walnuts , Roasted Hazelnuts , Oven Dried Blueberries
Variations
With flavor: You can substitute the vanilla extract To vary the taste of the sponge, combine it with any other extract. Try strawberry, orange or almond extract for a delicious twist on the traditional recipe.
Colored vanilla sponges: You may paint the sponges with whatever food coloring you like. This is often a hit with the youngsters. You may make each sponge a distinct color, or you can make them both the same hue. Try making unicorn sponges, rainbow colored sponges, or color them in the patriotic red, white and blue.
Leftovers
Leftover vanilla sponge cake may be stored in the refrigerator for up to 3 days. If it's decorated as a Victoria sandwich with cream, I recommend only storing it for up to 2 days.
This is a cake that you can absolutely decorate and complete the day before you want to serve it.
Undecorated sponge cakes may also be frozen for up to 6 months. The cakes don't freeze well if you add icing or whipped cream, but the sponges themselves are well suited for freezing.
Thaw and thaw frozen cakes overnight in the refrigerator before decorating. I love having a few cakes in my freezer for cake emergencies (does anyone else have that problem?), and a classic vanilla cake is one of my go-to choices.
What is a sponge cake?
A sponge cake is an unadorned, simple cake with no frosting. The sponge is usually flavored with vanilla or chocolate. After baking, decorate the simple sponge with your favorite frosting and colors.
Why do you have to weigh cake ingredients?
For baking, I always suggest weighing the ingredients. Cups are not all the same size, and they differ across nations. Measurements in cups are also not precise as you can get very different amount depending on how tightly you pack the flour, for example.
Vanilla Sponge Cake – Victoria Sponge
Vanilla sponge cake is a simple but delicious plain cake that you can add any icing to. To prepare a typical British Victoria sandwich, fill it with jam and whipped cream!
Prep Time 10 mins
Cook Time 25 mins
Resting Time 1 hr 10 mins
Total Time 1 hr 45 mins
Course Dessert
Cuisine British
Servings 8
Calories 348 kcal
Equipment
Baking Pans
Electric Whisk
Ingredients
Victoria Sponge toppings (optional)
 2 tablespoons strawberry jam
 150 ml double cream (heavy cream)
 2 tablespoons icing sugar (powdered sugar)
Instructions
Preheat the oven to 350 F / 180 C / 160 C fan oven
Crack the eggs into a mixing bowl, and weigh them.
In the same mixing basin, combine the butter, self-rising flour, and caster sugar. This is usually between 215-230g depending on the size of the eggs.
In a mixing basin, combine the vanilla essence and baking powder.
Mix the ingredients with an electric whisk until just combined. Don't overwork it!
Spoon the cake batter into two (20 cm / 8 inch) prepared and greased sandwich cake pans.
Bake the cake for approximately 25 minutes, or until a toothpick inserted into the center comes out clean.
Take the cakes from the oven and set aside for 10 minutes to cool. Then, gently remove them from the cake tins, and allow them to cool down completely on a cooling rack (at least 1 hour).
You may now decorate your simple vanilla sponge cake with icing or proceed to construct a traditional Victoria sponge.
To make Victoria Sponge
To create whipped cream, whisk together double cream (heavy cream) and 1 tablespoon icing sugar.
Cover one of the vanilla cakes with whipped cream. Add a layer of strawberry jam or raspberry jam on top of the cream.
On top of the jam, place the second cake. Sieve remaining icing sugar on top, and serve.
Notes
Refrigerate leftover vanilla sponge cake in a tight container for up to 3 days.
Freezing Victoria sponge: Prepare the two vanilla sponges and store them separately in the freezer for up to 6 months. Thaw and defrost the cakes in a refrigerator overnight, then decorate them and serve.
Make sure not to over mix the cake batter. The components should be blended just enough.
Let the cakes to cool fully before decorating them; otherwise, the whipped cream may melt straight off.
Avoid opening the oven door before the cake has finished baking! This may have an impact on the rise and texture of your baked goods. You should only open the oven door at the conclusion of the baking period to verify whether it's done.
Bake the cake in the middle of the oven for an even result. You should also rotate the two baking pans halfway through cooking to ensure equal baking.
Nutrition
calorie count: 348kcal 56g carbohydrate 7g protein Fat: 10g 6g Saturated Fat 1 gram of trans fat 111mg cholesterol Sodium content: 176mg Potassium: 116mg 1g fiber 34g of sugar 441 IU of vitamin A 1mg vitamin C 121 milligrams of calcium 1 milligram of iron
Related Questions
Is there a difference between sponge cake and vanilla cake?

To quote Mrs Beeton, the Victorian cookery writer, "true sponges contain no fat", only eggs (which actually contain a bit of fat) and sugar whipped to an emulsion with some flour gently folded in so as not to disturb the bubble structure of the mixture. All other kinds of cake have extra fats.

Is sponge and cake the same thing?

Basically, a sponge is a cake made very light by whipping the egg and carefully folding in the flour mixture. Victoria and Genoise sponge cakes are the most often seen on the program.

What is the difference between a Victoria sponge and a sponge?

What we now recognize as the classic Victoria sponge cake is how Queen Victoria would have loved her cake. It is, two sponge cakes filled with cream and jam and coated with sugar on top. This explains why the cake is also known as a Victoria sandwich cake.

What are the three types of sponge cakes?

4 Main Types of Sponge Cakes in Baking

Biscuit Sponge.
Genoise.
Angel Food Cake.
Chiffon Cake.
(Special mention) Jaconde Sponge.