Cake,cheese toasties is one of those things that is excellent even when it is horrible. Yet, we're so used to the same formula in cakes that it can be quite shocking to see something that doesn't fit those tired criteria.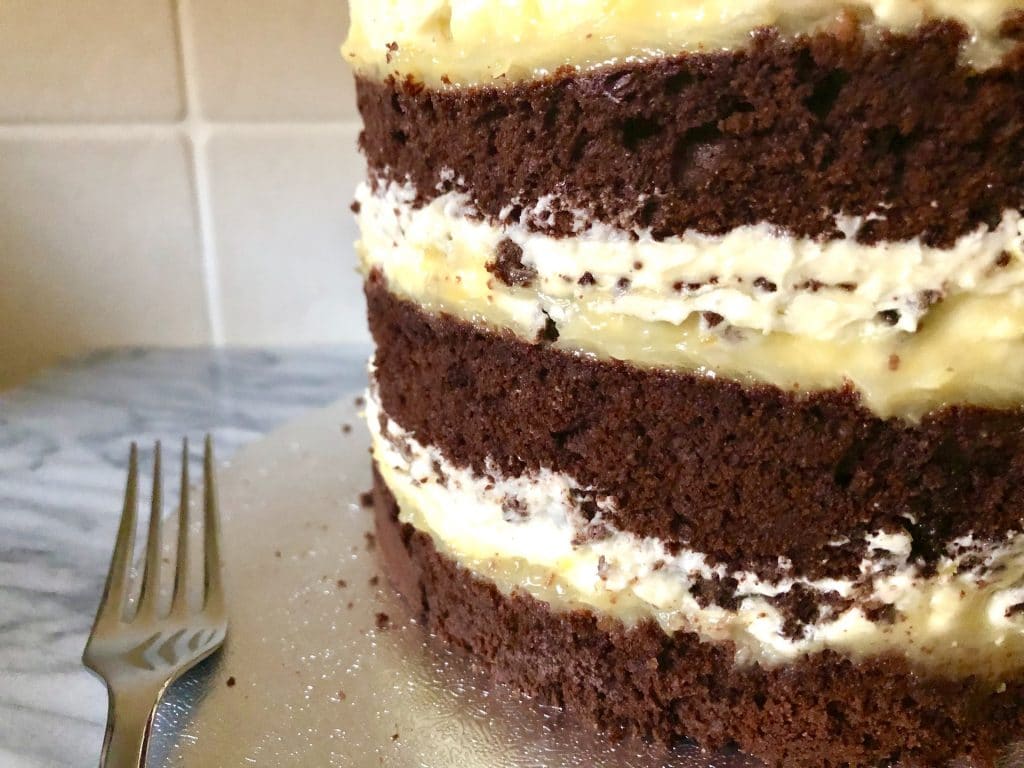 I'm talking about the sandwich cake, with one stingy layer of frosting in-between and a thick layer around the top and edges. It's fine, but it's missing SO A cake has a lot of flavor and texture options. Usually it also results in there being nowhere near enough frosting, despite a layer of it covering up all the lovely colour and crumb to be found inside.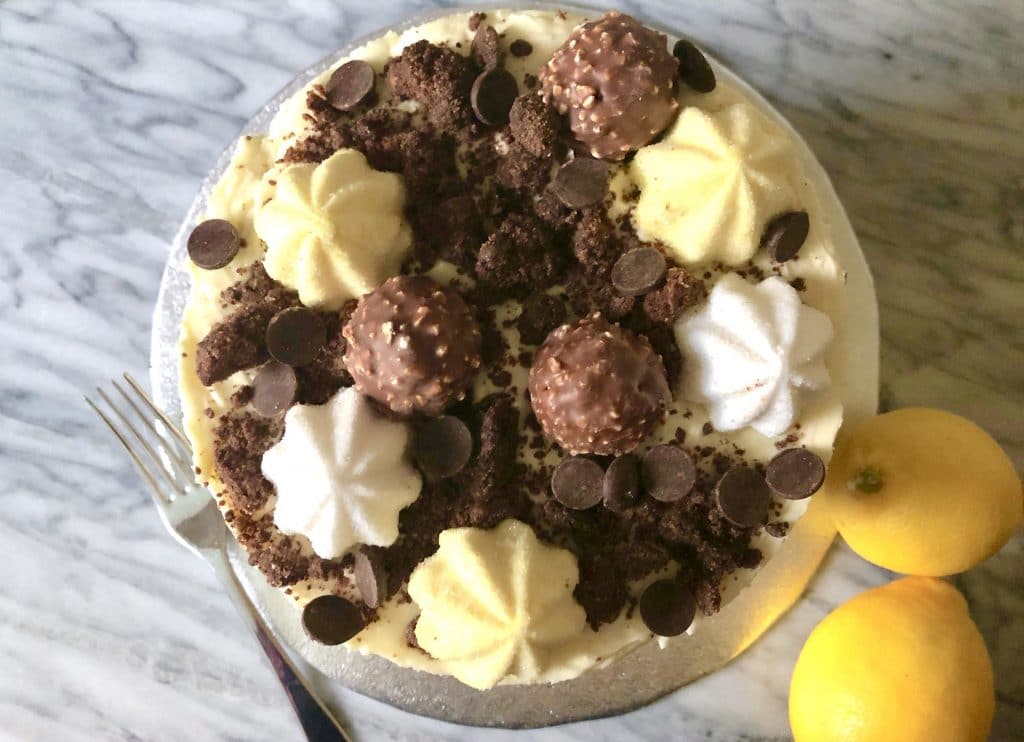 Based on that, this Dark Chocolate Lemon Layer Cake was a chill little experiment in my kitchen on a Saturday afternoon while I pushed my uni work to one side. I wanted bitterness, sweetness, crunchiness, and creaminess. All in one bite. That's what I set out to do.
Moist, dense, crumbling dark chocolate cake layers. Sharp homemade lemon curd. Fluffy and sweet vanilla marshmallow frosting. Crisp nuggets of chocolate cookie crumb.
This Dark Chocolate Lemon Layer Cake is crunchy, silky, sweet, and somewhat bitter. Chocolate and lemon aren't a common pairing, especially when compared to the prevalence of chocolate and orange, but there is no good reason why they shouldn't be.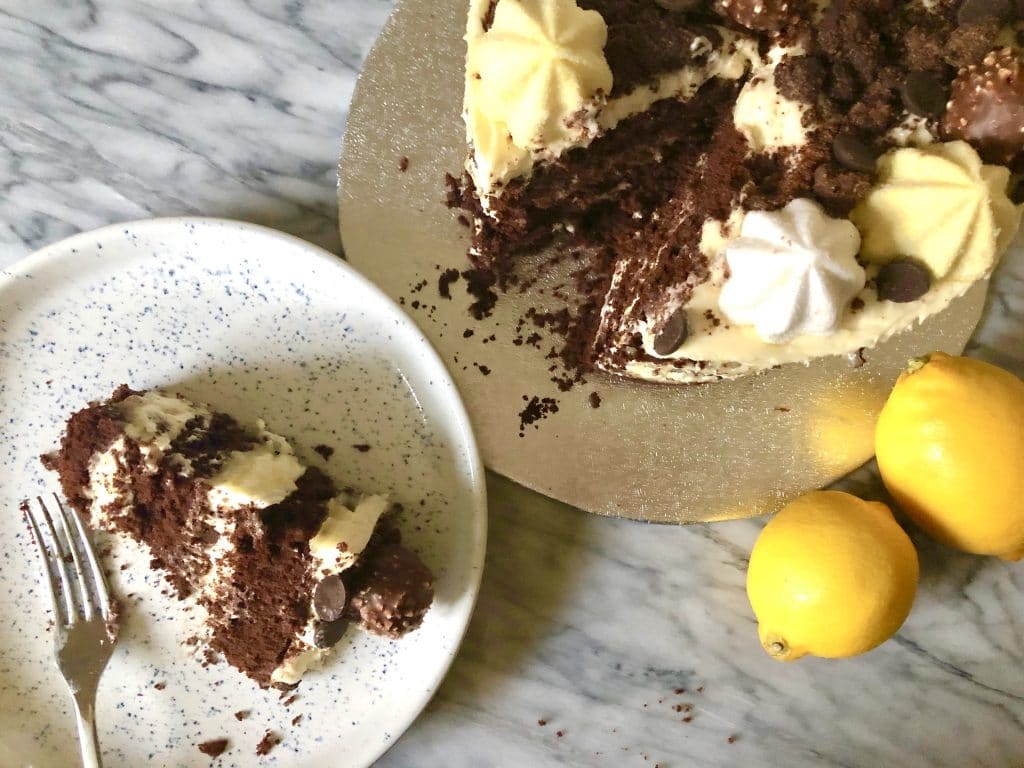 I won't lie, it's not the easiest cake to bake and construct , but it's worth every minute if you have a quiet day ahead of you and want something genuinely mind-blowing in your mouth (hehehe).
This Dark Chocolate Lemon Layer Cake is built in a similar manner to the Momofuku Milk Bar Cake for a birthday. I find their style of cake-assembly so fascinating that I've been doing it so I had to try it again. If you wish to replicate it, you will need a cake ring and some acetate . These aren't exactly store-cupboard staples, so you can easily use a couple of 9″ classic sandwich cake tins, with the other components squidged in the centre of the baked and assembled cake, and it will still taste every bit as good!
Layers of rich chocolate cake, tangy lemon curd, chocolate cookie crumb, and marshmallow icing create a flavor and texture fiesta.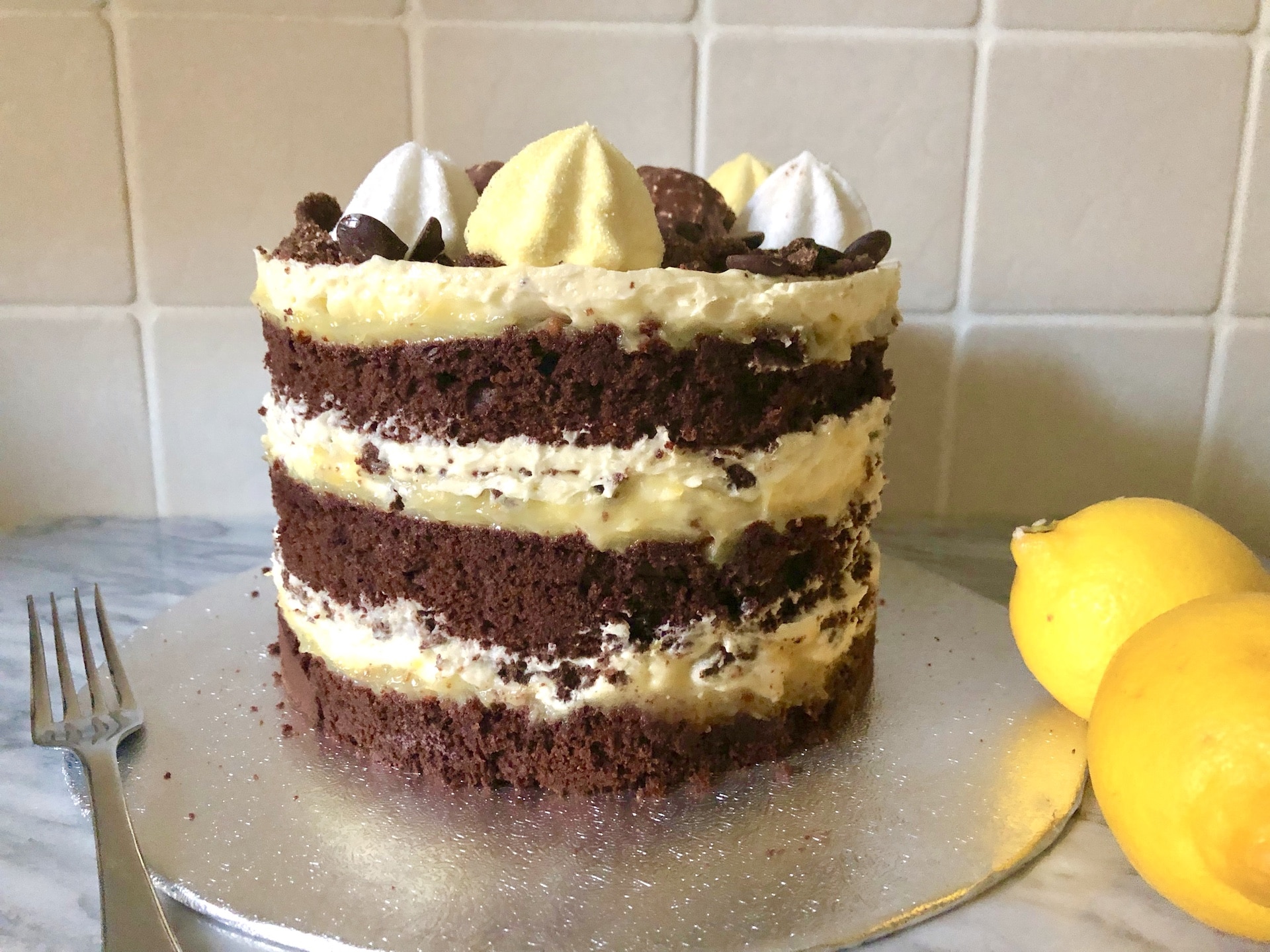 Ingredients
For the lemon curd (feel free to use shop-bought instead):
100g caster sugar
50g unsalted butter
2 lemons
2 large eggs
For the chocolate cake:
200g soft unsalted butter or margarine
200g soft brown sugar
1 tsp vanilla extract
2 large eggs
1 egg yolk
150g self-raising flour
50g cocoa powder
100g dark chocolate, melted
Pinch of salt
For the chocolate cookie crumb:
100g caster sugar
100g self-raising flour
100g dark chocolate, melted
2 tbsp vegetable oil (I used a light olive oil)
Pinch of salt
For the marshmallow frosting:
200g soft unsalted butter
150g icing sugar
100g vanilla Marshmallow Fluff
1 tsp vanilla extract
Splash of milk to soften (if necessary)
Instructions
For the lemon curd (feel free to use shop-bought instead):
Place a heatproof bowl over a saucepan of simmering water.
Place the sugar, butter, lemon juice, and lemon zest in a mixing bowl and whisk until combined.
Separately, beat your eggs with a fork until the yolk and white are combined.
Slowly whisk the beaten eggs into the heated, melting mixture.
Continue whisking gently until the mixture has thickened into a pouring-custard consistency. (When it cools, it will thicken into proper curd!)
Take the bowl from the heat and set aside to cool to room temperature before chilling in the refrigerator while you finish the remainder of the cake!
For the chocolate cake:
Preheat your oven to 180°C/160°C fan/350°F/gas mark 4 and set aside.
Line a 25cm x 31cm (10in x 12in) rectangle baking pan with parchment paper.
In a large mixing basin, cream together the butter, sugar, and vanilla extract until the mixture is paler and fluffier.
Add the eggs one at a time, beating well after each addition. (Don't worry if the mixture looks a little bit funny at this point, it will sort itself out when you add the flour!)
Stir in the flour, cocoa, melted chocolate, and salt until you have a smooth dark cake batter.
Pour the mixture into your prepared tin, smooth out the top, and bake in the preheated oven for 25-35 minutes. When baked, it should be risen and dark brown, with a clean skewer inserted into the center.
Allow to cool completely in the tin.
Keep your oven on to bake the chocolate crumb!
For the chocolate cookie crumb:
Stir together all of the ingredients for the chocolate cookie crumb in a large mixing bowl until you obtain a dark, clumpy yet sandy consistency.
Put the crumbs on a baking sheet coated with greaseproof paper.
Bake for 20 minutes, or until the top is somewhat darker. They may still feel moist but will firm and crisp up as they cool.
Set aside to cool completely.
For the marshmallow frosting:
In a large mixing bowl, combine all frosting ingredients until you get a pale, fluffy frosting. Feel free to add a little more icing sugar or Fluff to achieve a thicker or softer frosting!
To assemble:
Use your cake ring (adjusted to 15cm if it is adjustable) to cut out two circles of cake. Collect your leftovers since this will be the bottom layer of your cake.
Wipe and dry the cake ring before placing it on a board, baking pan, or plate to be served on.
Line the sides of the cake ring with a 7.5cm × 50cm piece of acetate.
Place the cake scraps within the ring and push them down into a level, even layer with your hand.
Put a couple of teaspoons of lemon curd on top.
Spread one-fifth of your frosting on top.
Spread one-third of the cake crumbs on top, carefully pushing them into the frosting.
Carefully spread another fifth of the icing over the crumbs.
To assist support the top layers, sandwich a second sheet of acetate between the first and the cake ring.
Repeat the construction procedure for the second and third layers. You should have finished all of the cake and icing. You will have curd and crumbs left over (for snacks!).
Assemble as many chocolate/lemon ornaments as you want on top of the cake.
Refrigerate the cake for 1-2 hours, or until the icing is set.
Remove the cake ring gently and take off the acetate.
Slice up and enjoy!
Related Questions
What type of cake is best?

Top 50 cakes

Banana cake with cream cheese frosting. Use up over-ripe bananas to create a crowd-pleasing afternoon-tea cake.
New York baked cheesecake.
Chocolate coconut cake.
Carrot and walnut cake.
Lemon yoghurt cake with syrup.
Chocolate mud cupcakes.
Flourless orange cake.
Vanilla cupcakes.

What is the most delicious cake in the world?

Labeling something the "world's greatest cake" is a bold claim that Norwegians do not take lightly. This cake contains the most delicious whipped cream, sponge, pastry cream, and meringue—it's everything you could ever want wrapped up together in one bite.

What cake flavors go well together?

Favorite Cake Flavor Combinations

Chocolate cake layered with vanilla buttercream.
Chocolate truffle: chocolate cake stacked with chocolate mousse and chocolate ganache, topped with ganache or buttercream.
Vanilla with vanilla buttercream.
Almond cake with almond buttercream.

Which chocolate Flavour cake is best?

What person does not like chocolate cakes? Chocolate is delicious, and chocolate desserts are even better!
Choco Truffle Cake.
Chocolate Fudge Cake.
Chocolate Raspberry Cake.
Dark Chocolate Cake.
White Chocolate Cake.
Choco Lava Cake.
Ferrero Rocher Layered Chocolate Cake.